OSA Weekly Update - 5/26/2023
1. Memorial Day Message from Auditor Blaha
2. Job Opening: Director of Standards and Procedures
3. Relief Associations: Legislative Update
4. Due: 2022 Annual Financial Reporting Forms and GAAP Audits
5. Due: Performance Measurement Program Report by July 1, 2023
6. Avoiding Pitfall: Petty Cash (Imprest) Funds - Part III
---
1. Memorial Day Message from Auditor Blaha

To the families of those who paid the ultimate price for our freedom, thank you for your sacrifice.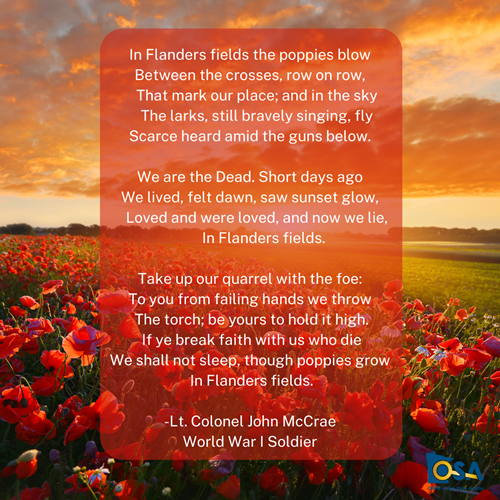 ---
2. Job Opening: Director of Standards and Procedures

Are you a CPA that enjoys research? The OSA is hiring a Director of Standards and Procedures.
This position provides oversight to ensure local government audits are of the highest quality in accordance with both OSA quality control standards, and regulatory and audit industry requirements.
Apply online: Click "Search Open Positions" and enter the job ID: 65743.
Questions? Contact Belle Sarff, Director of Human Resources.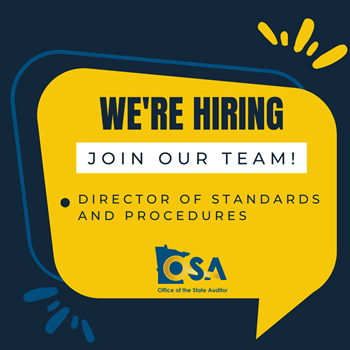 ---
3. Relief Associations: Legislative Update

The 2023 Pension and Retirement Omnibus Policy Bill, which includes a proposal from the State Auditor's Fire Relief Association Working Group, was signed into law by Governor Walz on May 19.
The Working Group proposal included in the bill increases the threshold at which an annual audit is required, from the current $500,000 in special fund assets or liabilities to $750,000. The change will become effective on December 31, 2023, and applies to audits of calendar year 2023 and thereafter. The OSA will notify relief associations impacted by this legislative change.
---
4. Due: 2022 Annual Financial Reporting Forms and GAAP Audits

For local government entities reporting on a GAAP basis of accounting, the Reporting Form, Audit, and related documents are due by June 30, 2023.
The 2022 Annual Financial Reporting Form (Reporting Form) is available through the State Auditors Form Entry System (SAFES). You will need a SAFES User ID and Password to access the Form. If you need a SAFES User ID and Password please send an email to SAFES@osa.state.mn.us with your name, title, entity, public mailing address, email, and phone number.
Instructions on completing the Reporting Form can be found on the OSA website.
The Reporting Form (in the Excel Format) and Audit (in pdf format) should be submitted through SAFES. Any related Audit documents should be emailed to GID@osa.state.mn.us.
---
5. Due: Performance Measurement Program Report by July 1, 2023

Participation in the Performance Measurement Program by a city or a county is voluntary. Counties and cities that choose to participate in the standard measures program must officially adopt and implement the ten minimum performance measures and system developed by the Council on Local Results and Innovation (Council).
In order to receive the per capita reimbursement, counties and cities must file a report (in a PDF format) with the Office of the State Auditor by July 1, 2023.
For more information on the Performance Measurement Program, please visit the OSA website.
---
6. Avoiding Pitfall: Petty Cash (Imprest) Funds – Part III

Part I of the Petty Cash (Imprest) Funds Avoiding Pitfalls series discussed the establishment of petty cash (imprest) funds, and Part II provided information on making withdrawals from these funds. This portion addresses additional recommended controls to safeguard petty cash funds.
The designated petty cash custodian is personally responsible for the cash entrusted to the fund. That person should properly secure petty cash funds in a metal lock box that is maintained in a locked desk, locked cabinet, or locked safe to which access is limited.
The full Avoiding Pitfall is available on the OSA website.